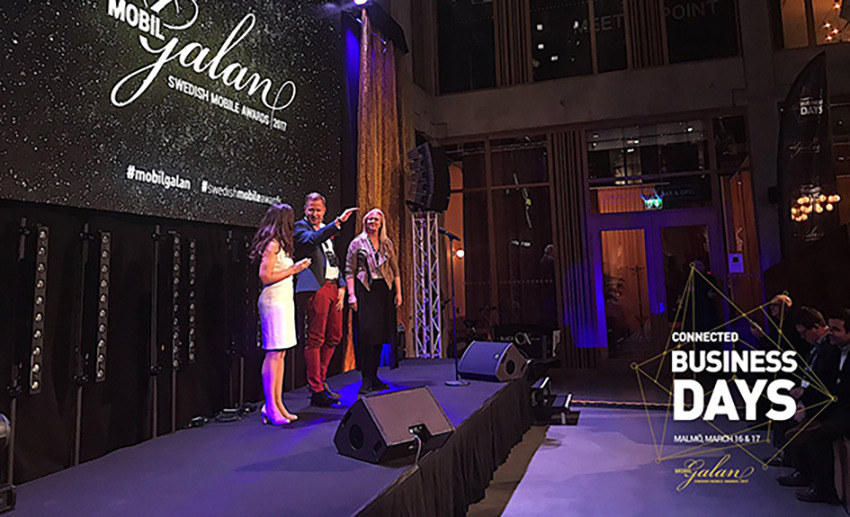 We are proud to present the super connectors of the Swedish tech industry - the winners of the Swedish Mobile Awards!
Connected Health of the Year
Cross Technology Solutions
Motivation:
Changing traditional health care processes by providing preventive treatment based on Big Data. This is done at the right time supported by remote specialist care using digital interfaces and remotely connected devises in your home.
Swedish Design Export of the Year
Ideal of Sweden
Motivation:
Ideal of Sweden has an unparalleld fast global expansion with a Swedish design centric product portfolio. Ideal of Sweden is run by World Class founders who manages to create ultra fast growth while still keeping a profitable business.
Consumer Product of the Year
Earin
Motivation:
One of the most successful kickstarter campaigns ever. Skyrocketing launch with a design centric, minimalistic and innovative solution that really has set the standard for the next generation of headsets. With snow-balling revenues Earin is a now a global player and one of the leaders in the segment.
Developer of the Year
Sigma Connectivity
Motivation:
A key enabler for many of the most successful mobile and device launches in Sweden. A true digital champion that empowers Swedish companies and solutions to become world class.
Alpha Game Project of the Year
Snowprint
Motivation:
From game developer veterans such as King, DICE, Rovio, Unity and Zynga comes a courageous new studio creating a new mid-core games category in the free-to-play games market.
Game-changer of the Year
Lightflex
Motivation:
Lightflex has brought the tech dimension to the traditional textile industry and created a new fashion tech segment. Printed active light that can be embedded into new and innovative products and solutions has started their global expansion working with leading brands.
Connected Transportation of the Year
SAAB GROUP
Motivation:
SAAB's ground breaking digital air traffic solution has changed what we thought was possible to do. This is truly a real game changer for control tower buildings. It's flexible without compromizing safety.

Do-Gooder of the Year
CARL
Motivation:
Search and rescue operations are time critical and the need of finding lost people quickly is essential. Carl has managed to create a unique solution that saves time so Carl can save lives ...
Connected Buildings of the Year
TMPL
Motivation:
From a good idea in an established real estate company to an independent service provider for smart living with its first 114 smart apartments in operation in Uppsala. By integrating all types of relevant technology into an easy to use and well tested service, TMPL has brought to market Apartments 2.0, or even better, Smart Living for Real.
Marketing of the Year
Apoteket
Motivation:
Apoteket has substantially increased their mobile marketing efficiency by adding user friendly mobile interfaces both in sales and support.
IoT Hardware of the Year
Glue
Motivation:
Glue enables you to access your home from anywhere in the world. The unique service delivery feature is creating new innovative models for home delivers that will completely transform the market. A design centric, easy to use product which interacts with all existing solutions on the market.

IoT Enterprise of the Year
Verisure
Motivation:
Since spun out from Securitas some ten years ago Verisure has continued to execute with excellence. Today they are European market leader in monitored alarms, active in 14 countries including Brazil, Chile and Peru. On top of continuous growth they have successfully added a great app based user experience to their robust security service.

IoT Company of the Year
Wireless Systems Integration
Motivation:
Wireless System Integration is a true champion in industrial IoT equipping a substantial amount of successful Swedish and global tech clients and projects. One of a kind technical and business know-how with a global ambition from start.

Operator of the Year
Telia Company
Motivation:
Telia has managed to position themselves as the operator ready for the future. When moving from connectivity to ICT player in the SoHo/SME market as well as pushing strong initiatives with Division X, Telia shows a strong ambition to become a new kind of Telco of the future.

Startup of the Year
Imagimob
Motivation:
Imagimob has been able to crack the code of motion intelligence with AI and realtime analytics for the next generation of tech solutions that need to control, monitor and understand how people, things and even animals move.

Company of the Year
CLX
Motivation:
CLX networks has in a very few years become one the global market leaders in the cloud communication industry. Fast growth, global expansion and a strong M&A strategy in combination with new innovative solutions in IoT and now with a market cap close to 6 billion sek.